My Daughter, Debi, started marksmanship training at eight years old. Due to the area we live in, there are not many clubs she could train with as a marksman. In 2019, Debi enlisted in the Army JROTC Cadet Corps at West Forsyth High School in Clemmons, NC. The program was restarted by Major Richard Sugg (Retired). Having been a marksman for the Titan Rifle team nearly 30 years ago, I volunteered as the assistant coach.
As a new program, we had the expected equipment and logistical issues. While each team cadet worked hard that year, Debi began to stand out. Starting a friendly rivalry with a Bronze CMP Junior Distinguished Shooter in her first year, she set her goal of beating her once before her new friend graduated that year. Little did anyone know; the world was about to be struck by COVID. She shot well enough in sporter class (the only discipline our team competes in) to be invited to the CMP Southeast Regionals in 2020. We were participating in the NC American Legion-sponsored match when we got word from the school system that due to Covid, the entire sports season and remainder of the year would be canceled. Despite this, she beat her marksmanship friend by a couple of points that day. They are still good friends to this day.
Her sophomore year the school year was cut short, but Debi still won her first Individual District Championship. With the season altered and not being able to travel out of state for most of the year, we could not shoot many events. However, we did get to go to CMP Summer Camp in Anniston, Alabama. Debi excelled at camp and walked away with a Silver Medal in Sporter class.
It was during this trip that my professional work with the sport began. Richard Sugg notified me about a job opening with Shooter's Technology (recently rebranded as Scopos). I had told him during Debi's freshman year, "if I can ever find a job where I can work in marksmanship in some capacity, I'll take it."
With my experience in marksmanship and computer science, the owner Erik Anderson, and I hit it off from the start. At this point in time, Athena for Clubs was launched, and the company was focused on beta testing for the home version of Athena.. I needed an Athena at Home unit for development purposes. Rather than me placing it in my office and firing an air pistol at it, Debi became my real-life beta tester.
Debi's junior year went exceptionally well. She medaled, took home overall top shooter, top team shooter, or set a personal record at every one of the nearly 25 matches we competed in. She led her team to the 4th Brigade Championships, Army Nationals, and CMP Southeast Regionals in 2022. In addition, she earned a personal at large bid to the 2022 CMP Junior Olympics/National Championship in Port Clinton, Ohio.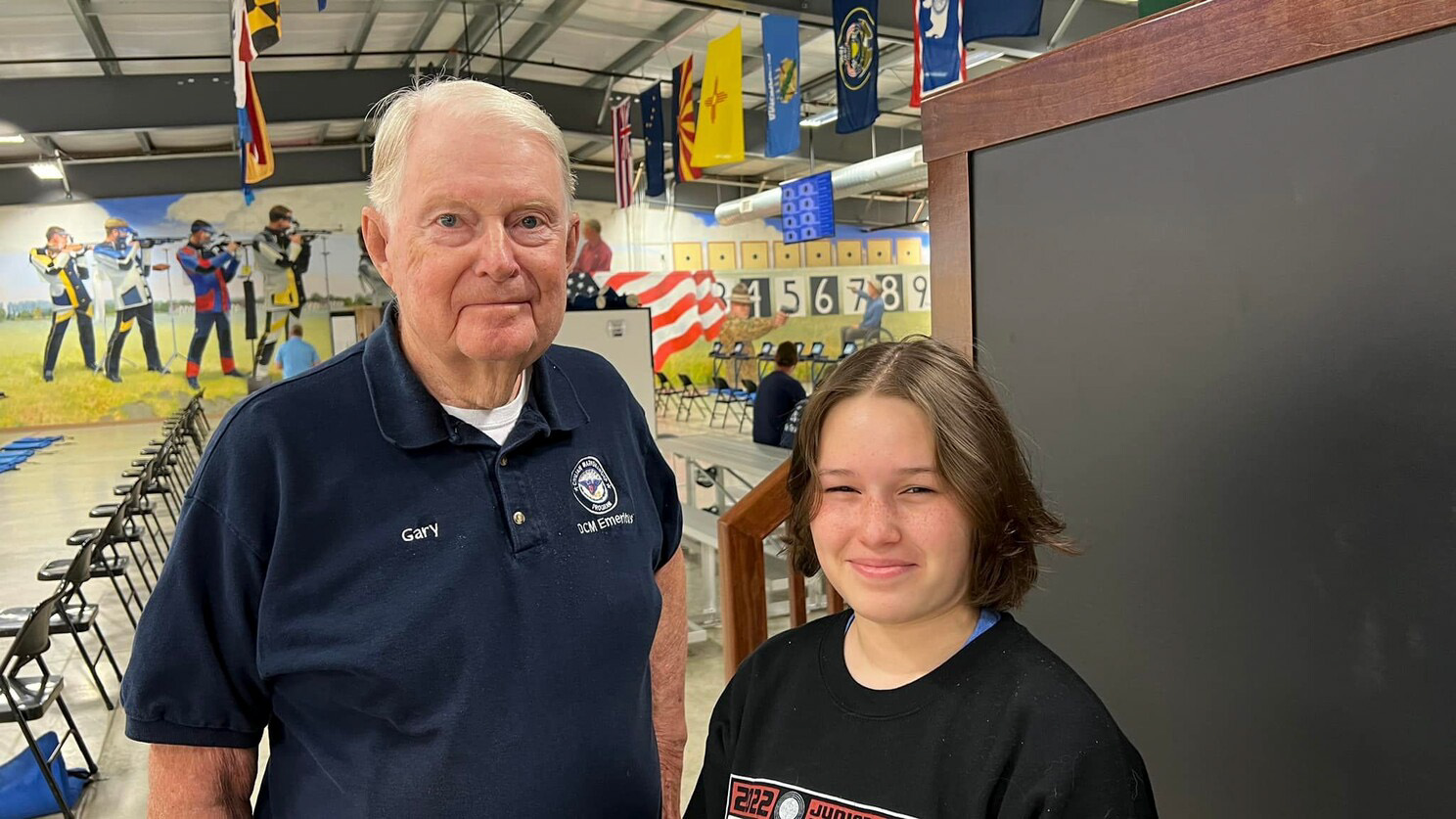 Debi with The CMP's Professor Emeritus, Gary Anderson, at the 2022 CMP National Championships and Junior Olympics.
Before her training on Athena at Home, her scores in the Sporter class averaged around 525 in 3PAR, with the occasional spike to 538. In March 2022, we finally set up our Athena at Home  Target and Monitor after laying out a safe range to shoot.
Debi doubled her efforts from the moment it was running. She went from practicing once a day at school in the morning with her team and once in the evening at home. At home, we could train unconventionally. We made practice conditions rougher than a shoulder-to-shoulder match could ever present. Music was blasted at just barely safe for the human ear, and iPads were set up playing her favorite K-Pop videos which inherently distracted her and made her want to dance. Our playlist consisted of "The Joker's Theme" from The Dark Knight, Shakira, Country (her least favorite music), The Wiggles, Alvin and the Chipmunks; comedians like Kathleen Madigan would be interjected to offset the pace. We would throw paper airplanes at her. We would distract her in every way possible. She could train differently with Athena at Home's EST and the monitor displaying instant feedback. Debi was able to prepare the way that worked for her. We would even station GoPros on her and then use a technical trick to sync the video and shots for playback to determine flinches from positional issues or technique problems. Athena made feedback possible in ways we were never able to achieve previously.
She took her newfound Athena-inspired knowledge and made changes to her methods. She went on to win the NC American Legion State Championship. Additionally, she earned silver in standing at the 2022 CMP National Championships and Junior Olympics, picking up 10 EIC points in two days. Her silver medal win at this competition places her in the top .1% of the top 1% in the country. "The Elite. Best of the Best." She attributes this to her training with Athena at Home and how it helped train her to focus on one shot at a time—thinking of each shot as an individual match. Her shot plan had become automatic due to the training repetition on Athena, and she didn't have to think on the line. Just shoot.
After her performance at the championships, she decided she had accomplished everything she had set out to achieve in Sporter class and decided to retire from Sporter and focus on Precision with the goal of shooting for an NCAA Rifle Team.  Equipped with her new Feinwerkbau and her Athena at Home unit, she began training in the precision class.
We went to Summer Camp at the CMP South facilities in Anniston, Alabama. She went as a precision shooter, having never practiced kneeling or prone before with a precision rifle. She jumped right in, paying close attention to how the other athletes prepared. She went on to take the Gold in her first-ever precision match at camp.
With a few more matches under her belt, pending confirmation from the CMP, she has earned her Junior Distinguished Badge Obtaining all 30 EIC points since she started training with her Athena at Home unit less than one year ago.
Debi credits her rapid rise to success to her Athena at Home unit. As a coach, I can attest to the ability to coach in new ways that were previously impossible to shoot on paper. As I conclude this article, I am watching her scores come in on a web browser while she trains in the other room.